In order to edit the page with the description of your course you need to login into the system using the username and password  you received via email. If you didn't receive the registration email please get in contact with us using the email address webmaster.esslli2016.unibz.it.
You can find the list of all the courses, with the links to each course page, under the Program > All Courses menu:

When you are visiting one of the pages you can edit you'll see an Edit Page option on the top banner, as shown in the picture below:


You can also see all the pages you can edit accessing the Dashboard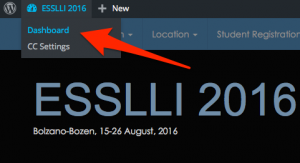 and looking under the list of all the pages in the sidebar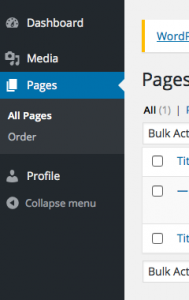 WordPress editor should be intuitive enough, but if you prefer a text based editing you can switch to HTML tags using the Text tab above the editing area.
We provided a common structure for all the course pages; please stick to that. You can upload media files to share PDF or other documents using the Add Media button right above the editor.
The publish side bar on the right can be used to preview your modifications using the Preview Changes button, and finally to publish the page using the Update button.
If you by mistake deleted the page using the Move to Trash link you should still be able to recover it from the Pages left sidebar. Otherwise please get in touch with us ASAP so we can restore it (it'll get permanently deleted in 30 days).